I have been making and selling tiny dolls, toys and teddies since 1985. From a very young age I was fascinated by miniatures, loved teddy bears and making things.
When I was a small child we regularly visited the town museum in Worthing and my favourite exhibit was a pedlar doll about 12 inches tall with a head made from a preserved apple. The tiny sewing items in her tray fascinated me and it was always in the back of my mind to try and make one. Many years later I did make one using the traditional wooden dolly peg method. This meant my doll was about six inches tall, half the size of the one in the museum, so all the items in the tray needed to be 1/12th dollshouse scale.
This was quickly followed by several other dolls, made by the same method, some of which I still have and are shown below.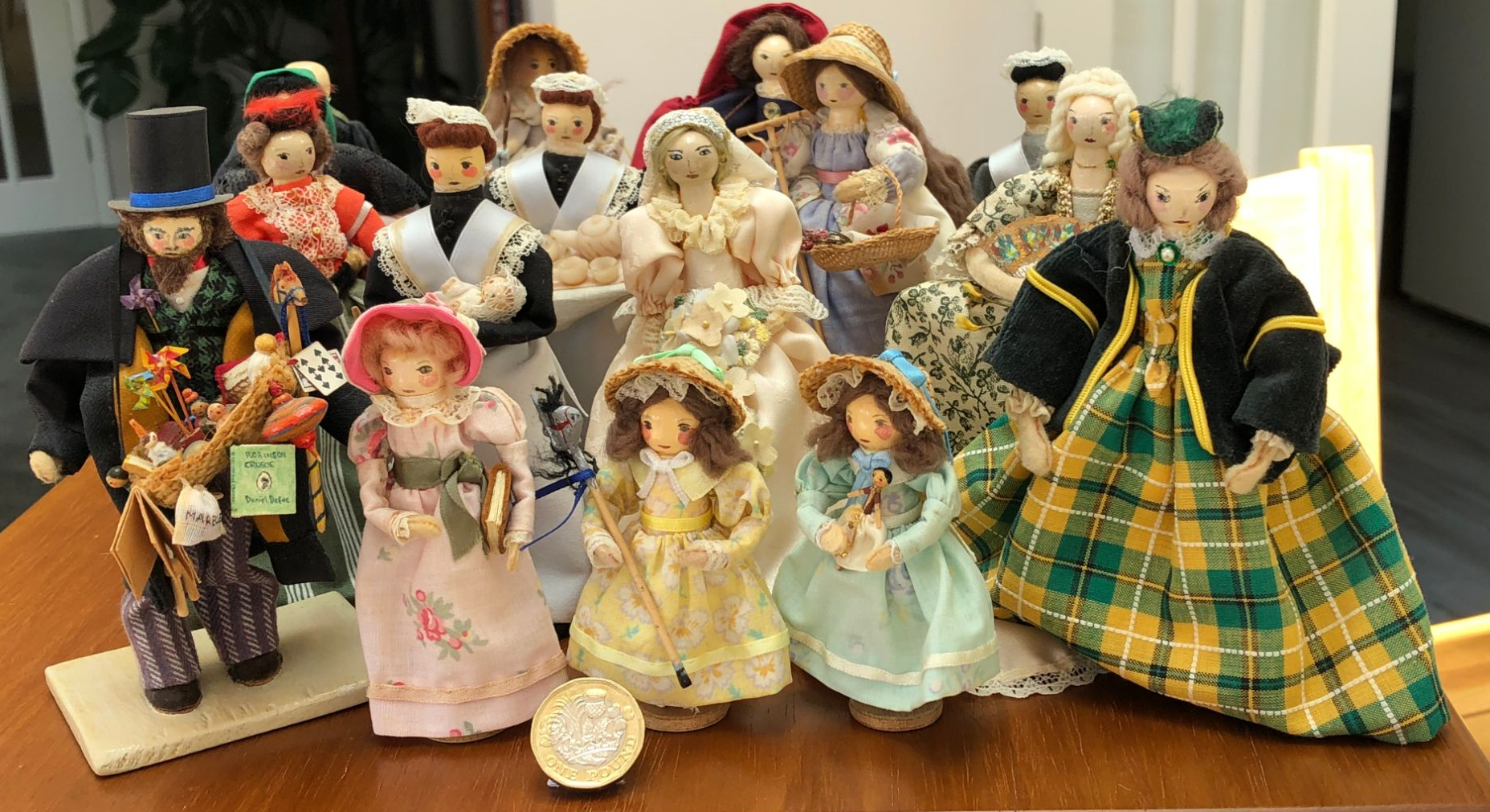 In 2008 I was asked by a customer if I could make a 1/48th scale Miss Marple. This was my introduction to the 1/48th hobby. Since then I have slowly developed a range of 1/48th people alongside my 1/12th scale toys. It amazes me how many of my dolls seemed to have been inspired by my early peg doll creations!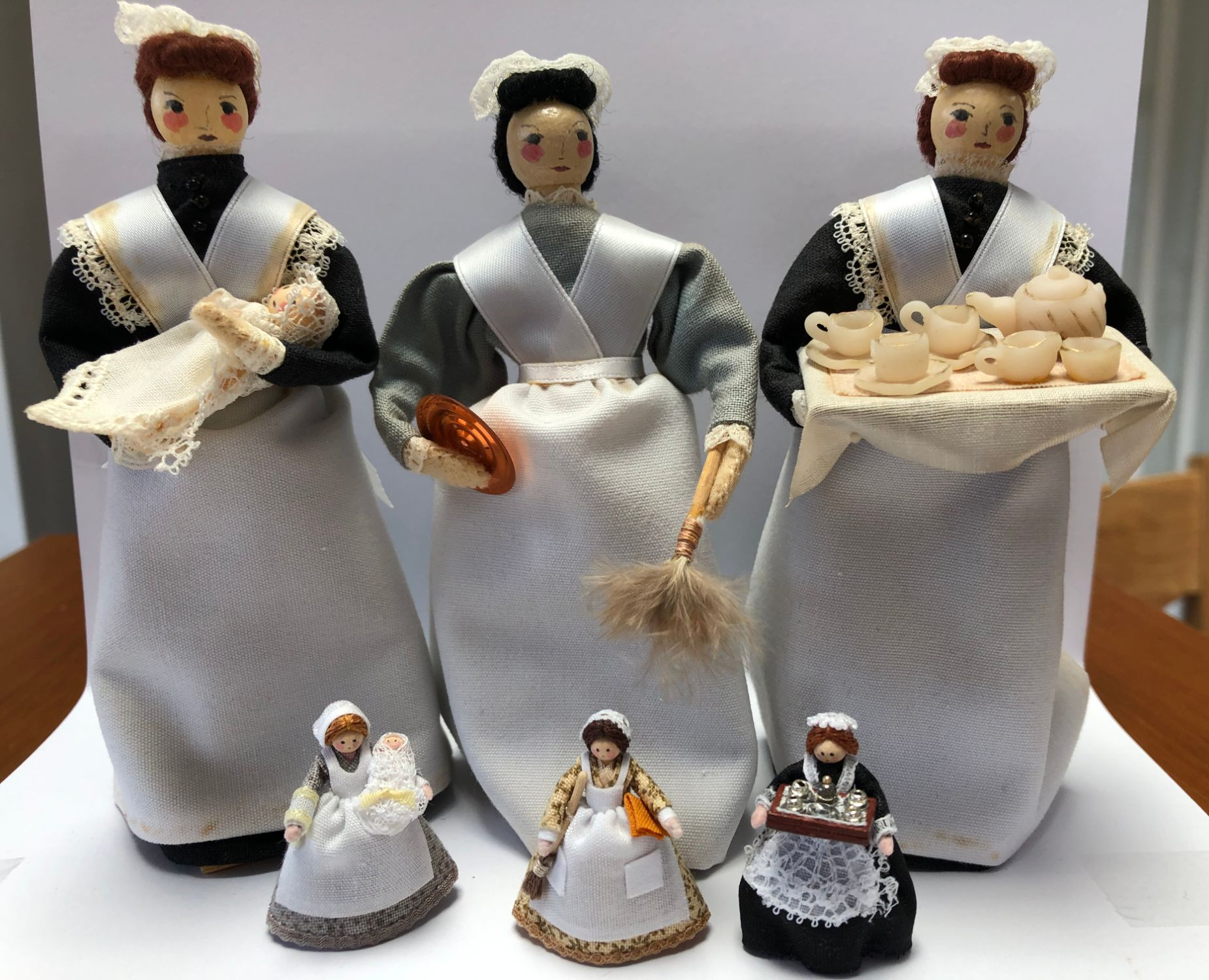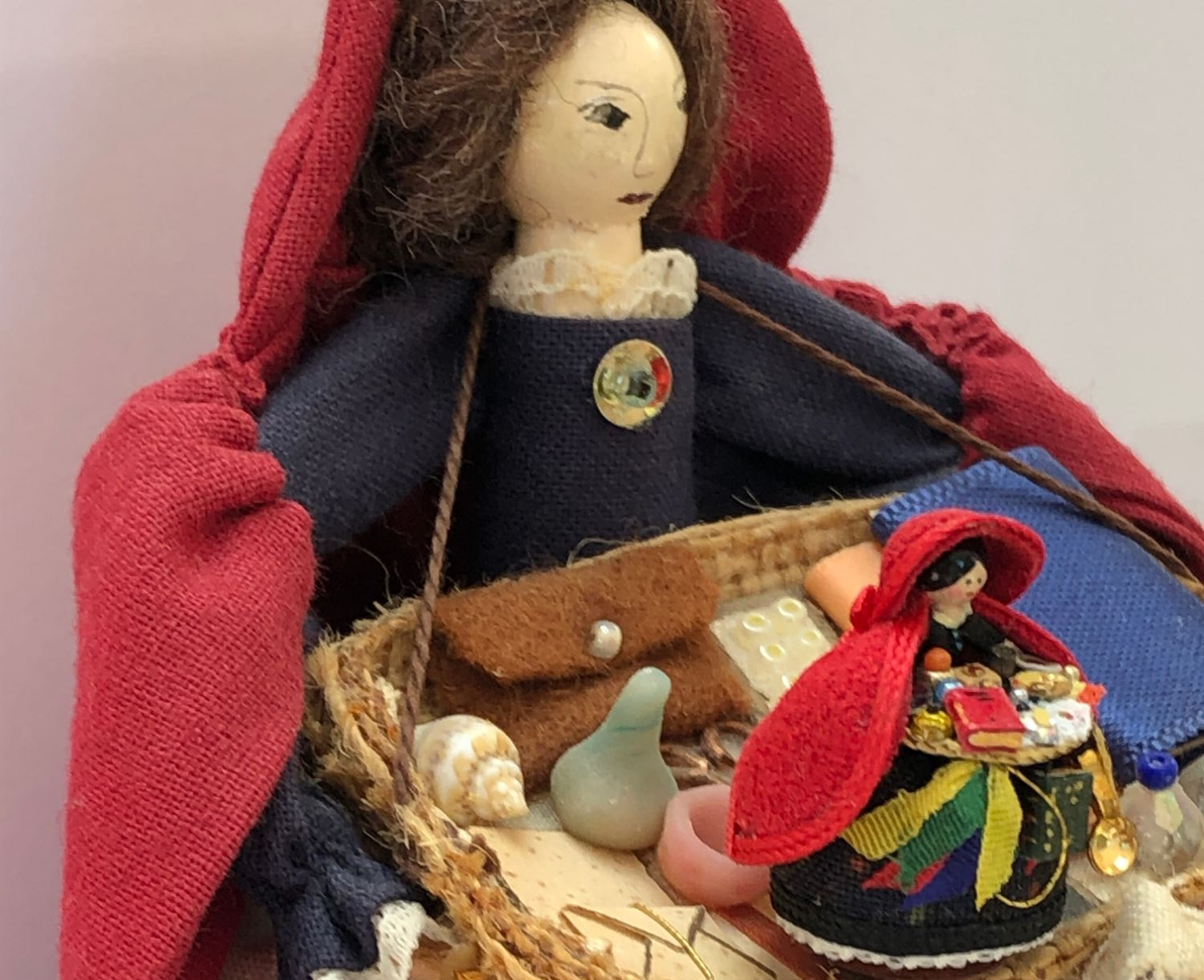 The teaset carried by the peg doll was an early venture with Fimo clay which I discovered in the 1980's. This was an amazing product for making tiny things!
Another item of inspiration from my childhood was a very tiny orange pipecleaner teddy inside a small craft kit which came in my Christmas stocking. The instructions showed you how to make very simple animals such as a horse but not how to make the teddy! I remember my mum, dad and older brother all trying to make one for me but nobody could. However I always knew it was possible and again it was many years later I started fiddling with a pack of coloured pipecleaners from the tobacconist and created an acceptable 3/4 inch tall bear.
Having made the peg dolls and tiny teddies I decided to try and fulfil my childhood dream of making and selling my work. In October 1985 I saw an advert for a very small 'marketplace' stand at the Global Doll Society fair to be held at the Brighton Metropole Hotel. I took my mum to help me together with a variety of dressed peg dolls, 40 pipecleaner teddies and some little wooden dolls I had made for my pedlar trays. A few peg dolls sold but the major interest was in the pipecleaner teddies and tiny wooden dolls.
Ann Strudwick, who owned a shop called Children's Treasures in Hastings, bought a few of the teddies and wooden dolls from me and asked me to supply her by mail order. This encouraged me to design some other little toys and dolls using pipecleaners, wooden beads and toothpicks and that was the start of my early range of miniatures. My first mail order was sent out in April 1986. Around that time I met Kristin Baybars at a dollshouse fair in Portsmouth. Kristin has a long established toy and dollshouse shop in London and I have supplied her with many dolls and toys over the years.