Barbara Antol lives in New York and loves miniatures and teddy bears.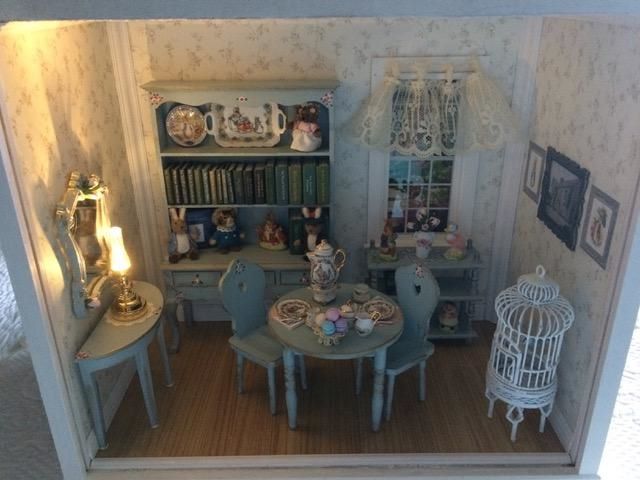 Barbara has recently completed this adorable Beatrix Potter Roombox.
'When Peter and friends arrived, I knew I wanted a special home for them. I had some other Beatrix Potter items I had collected over the years. They were here and there in different houses (and some had been tucked away in boxes for "someday"). So... I gathered them together along with some other special furniture pieces from my "stash". She adds 'I have a little extra space here and there, so I think Jemima Puddleduck, Jeremy Fisher and Samuel Whiskers will have to join them soon.'
Quite rightly Barbara is very happy with how it has turned out. I especially like the little macarons on the tea table!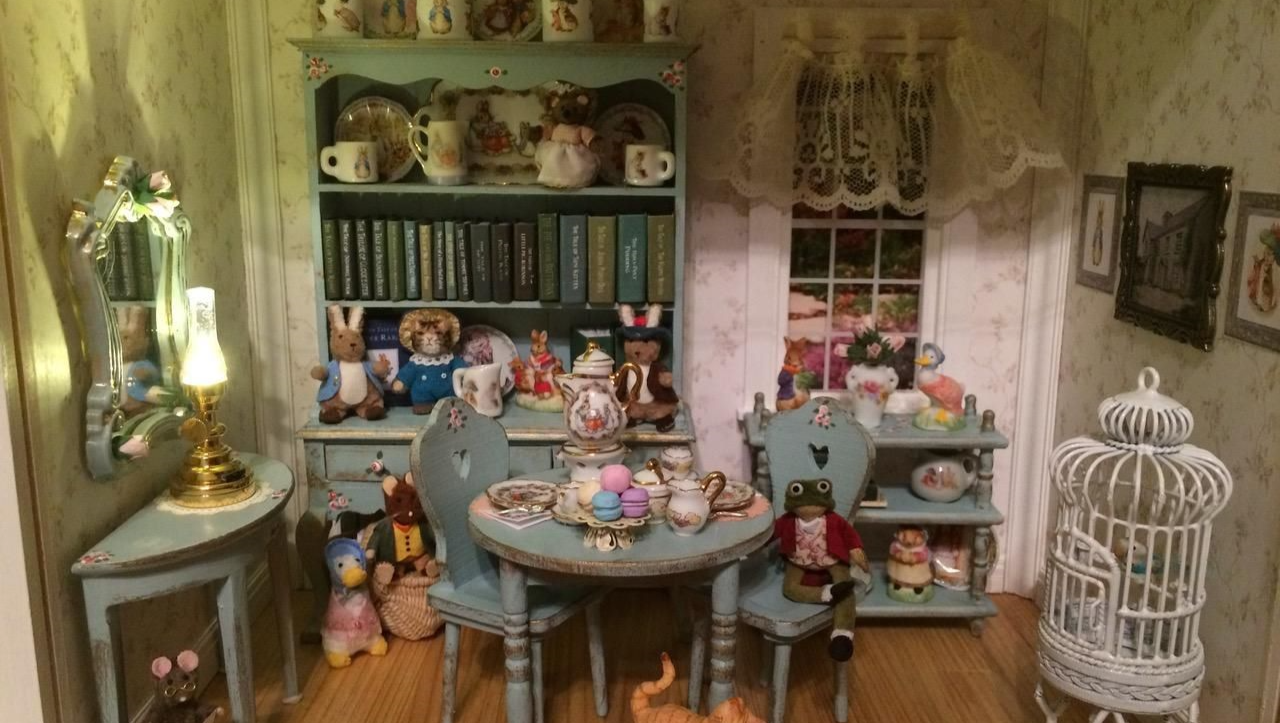 Barbara has now sent me an updated photo... She says 'The Beatrix Potter crew arrived safely and have all settled into the roombox. They are just wonderful and I love them. They are all great but must say, my favourite in this batch is the Tailor's Mouse.. He is darling. As you can see in the photo they're happy to be with their friends.'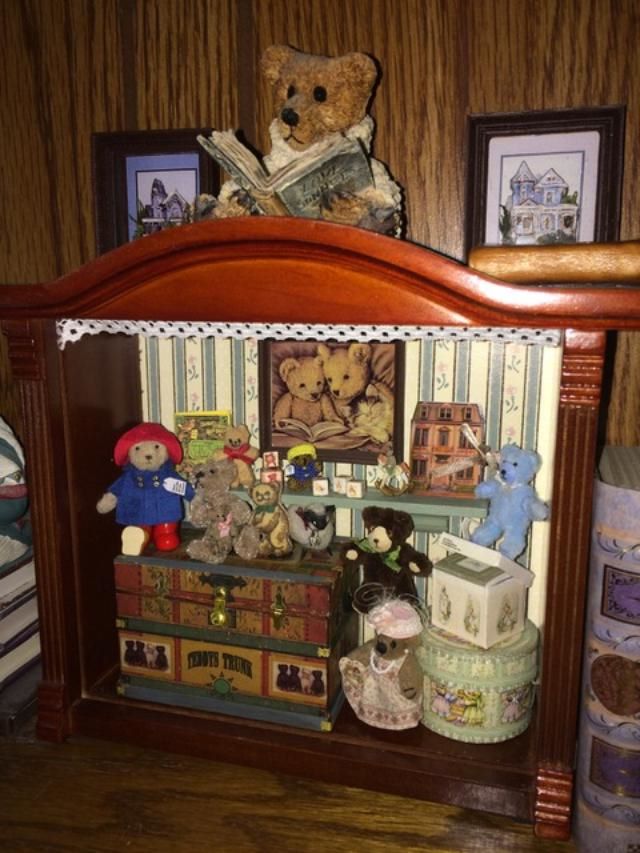 Barbara has sent me a photo of another project she has now completed.
She bought the Reutter display box several years ago and decided to fill it with special little toys, mostly teddies. The little teddy bear print trunk was assembled using a kit from Cat's Paw Miniatures.
The tiny teddy with the pink bow was bought in a teddybear /toy show in Boeblingen in 1990. Barbara says 'The shop owner spoke no English and I spoke no German, but we got along just fine. I had brought my travelling Teddy with me, and pulled him and his passport out to show her. She got the biggest kick out of that. I just pointed at the very tiny one in her case and gave her my credit card. He's very small, but very special.'
Paddington, together with the blue and dark brown teddies are my own creations and are priviledged to be included in this very special collection.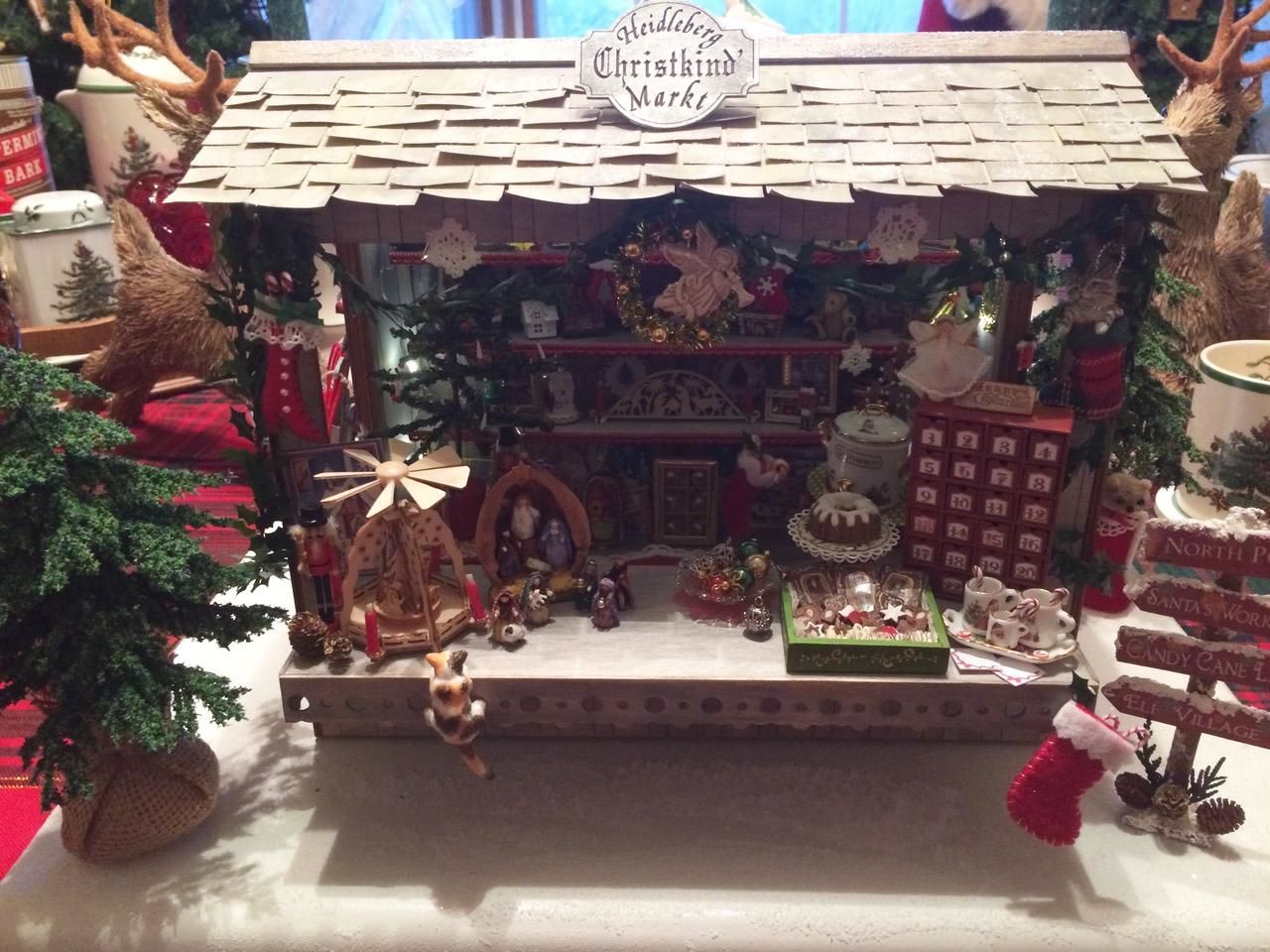 Barbara has sent me some photos of a Christmas Market Stall project she has just completed. She says 'I bought the kit from Michelle's Miniatures (Pennsylvania, USA) at least 3 years ago, and finally got around to building and completing it. It was the perfect place to display many of the Christmas minis I collected over many years, including the marvelous little nativity scene I purchased from you last year. I was originally going to put that in one of my dollhouses which I decorate for Christmas, but I decided I can see it better here, since it's right on the front counter. Again, I am just in awe of your craftsmanship. The detail in the little nativity figures is simply amazing. The little angel is also there on the counter. The best part is this little project will stay in one of the bookcases where I display some of my other minis, so I get to enjoy a little Christmas spirit all year '.