Sue Popely 1/48th
The settings on this page have been made by Sue Popely who is very well known
in the miniature world as 'The Luggage Lady'.
TUDOR COTTAGE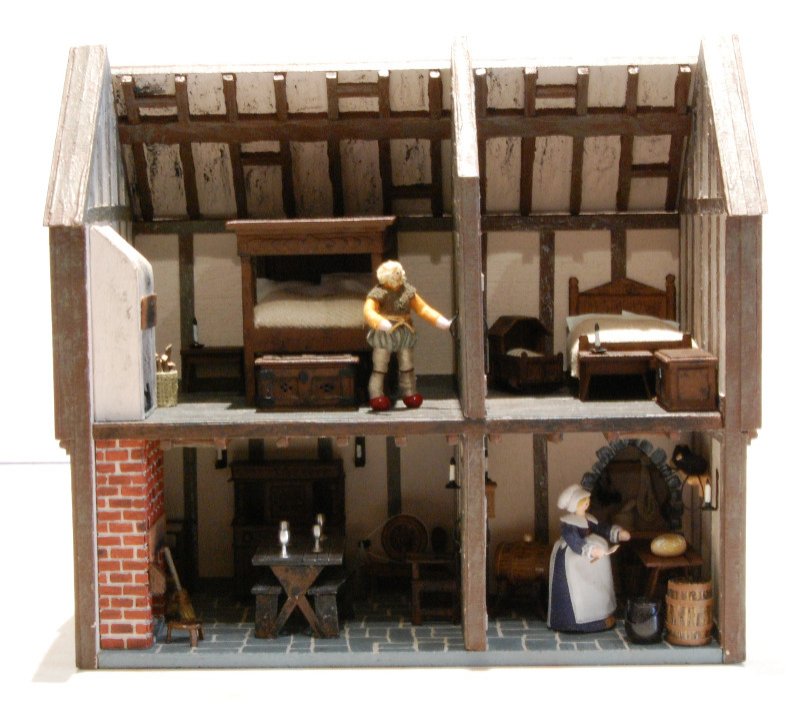 Sue has made this Tudor house from a kit by Petite Properties. She has very cleverly used card from
cereal packets to create the furniture! The Tudor peasant inhabitants, Henry and Alice, have been
made by myself.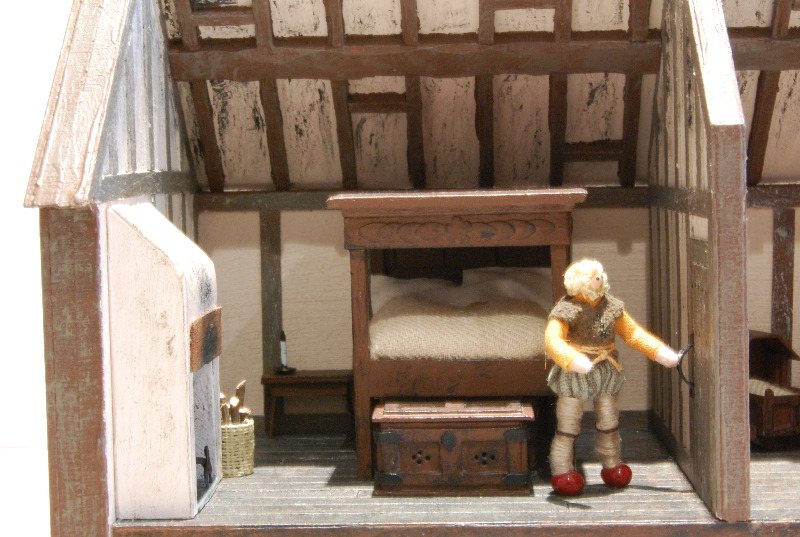 Detail of the bedroom.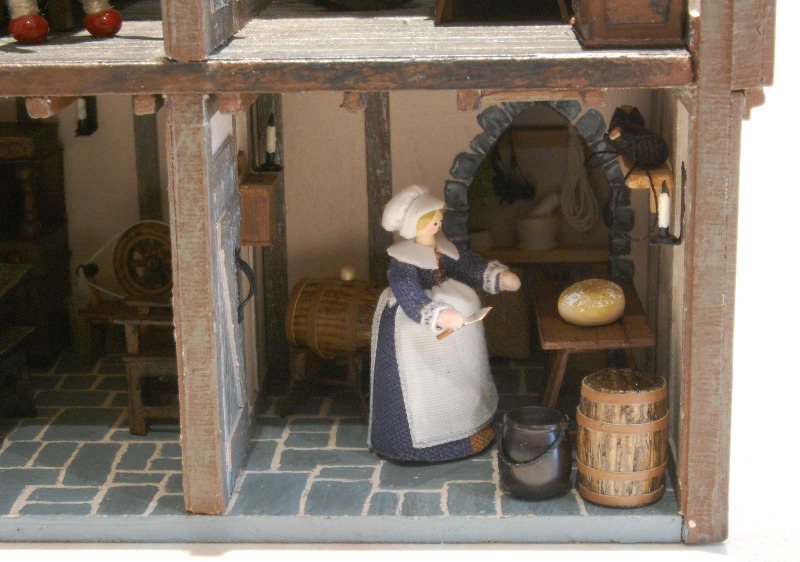 Close-ups Alice making bread in the kitchen.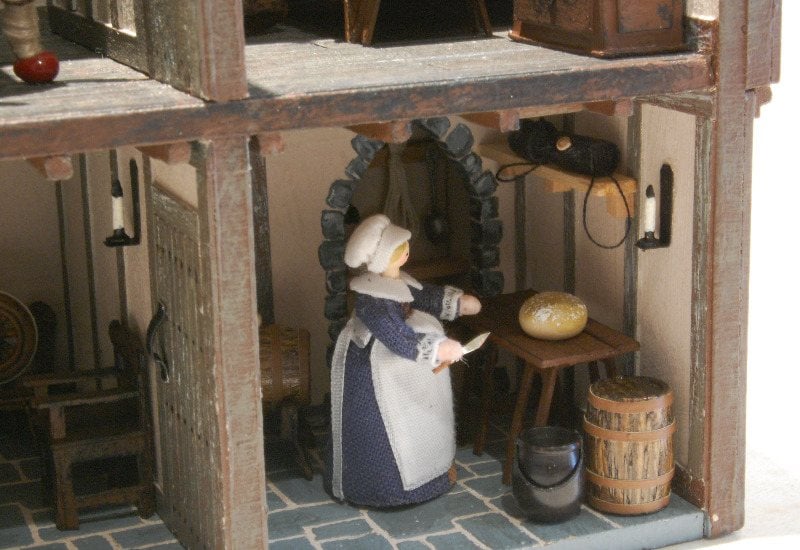 SNOWDROP COTTAGE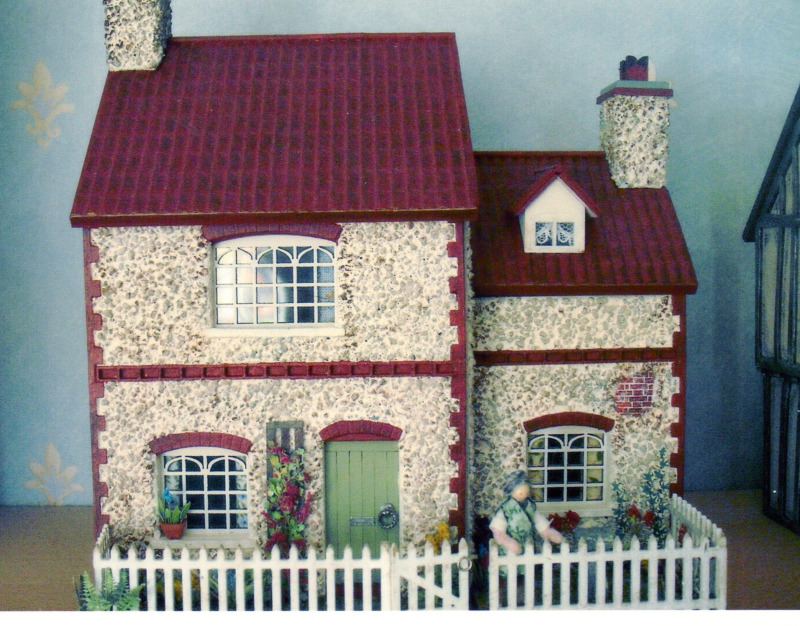 Snowdrop cottage is another kit from Petite Properties assembled by Sue.
It is the home of Stan and Ethel who are made by me. Stan is a retired railway worker who enjoys
reading his daily newspaper. Ethel is waiting at the gate for her friend Millie to arrive for a good
old natter.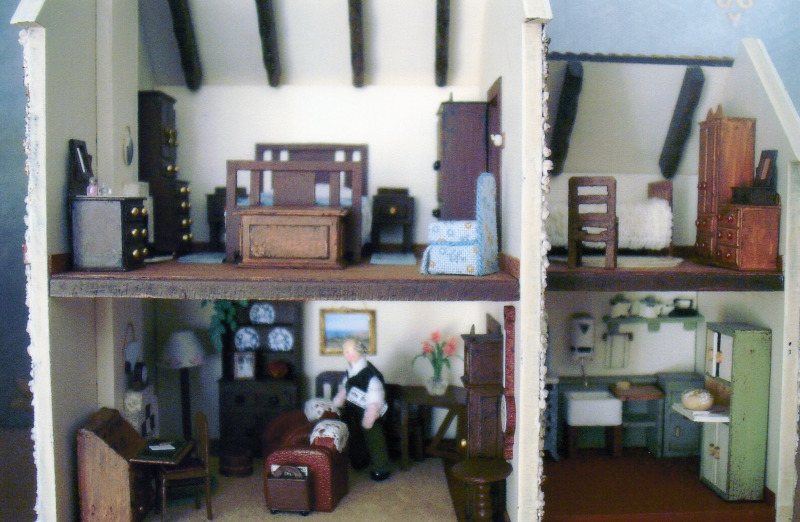 Once again all the furniture and interior items have been made from all sorts of bits and bobs by Sue.
Sue has written her own poem about the occupants of Snowdrop Cottage.
Two Pensioners Find a Home
Stan and Ethel Brown one day,
Went out to find a home.
They looked to find a comfy one
But one without a gnome!
Stan spied a lovely tiny one,
Snowdrop Cottage was its name.
Would Ethel like it? Hope she would,
He loved it all the same.
It had a white-washed picket fence,
And a gorgeous garden too.
But what suprised them most of all
It had an inside loo!
She went inside "Oh! Stan" she cried,
This little home is bliss,
Who could have made this tiny house
As wonderful as this?
Not rocket science Stan replied.
This lovely house you see,
Was crafted by two clever folk,
That's Tony and his wife Bea.