Barbara says:
'For 2023 Create.miniatures.org is having a year-long mini challenge. For my project, I will be doing a Gypsy Caravan scene in quarter scale. This project is one I've wanted to complete for some time and I already have on hand multiple wagon kits in different styles. When complete, they will be displayed together atop a filigree cake plate I found, along with some wonderful little Gypsy dolls I commissioned from Sally Reader Miniatures and some tiny O-scale Vanner & Friesian horses.'
This is the first wagon Barbara completed. She says 'This one is a bow-top wagon. I just love building and decorating these kits. Part of the fun of is choosing the different color schemes. I've been enjoying searching online for images of these beautiful wagons for inspiration. I used fingernail decals for the gold trim. They work great in this scale and are much easier than painting the trim. The kit called for the roof to be glued in place, but since I decorated inside the wagon, I wanted it to be removable. A cardboard tube from a toilet paper roll was the perfect diameter. I just trimmed it to size and glued the roof to it. The cardboard is flexible enough so the roof can easily be slid off the wagon. All the the furniture inside is custom built from little wood scraps Of course, there had to be a cat sleeping on the bed
Finished the second 1:48 scale wagon for my Gypsy Caravan project for the Create Year Long Challenge! This is a different style: a ledge type wagon. The kit was one I bought several years ago from Just Quarters in New Zealand. (The bow top wagon kit I built last week was also from there.) For this wagon, I went with shades of blue and cream. I really think I'm going to need a bigger base for the display. The one I have is 14", but it's already rather full and I still have a couple more wagons to build plus the horses and Gypsies
The third Caravan... 'Woohoo! Completed another Gypsy wagon today. I built this one using a 1:48 Shepherd's Hut kit from Seaside Miniatures. I chose black and yellow as the color scheme for this one and embellished it a bit with some fancy trim along the roof and shutters and window boxes. In addition to the fingernail decals, I hand painted some of the floral trim on the shutters and door. Also, I found another larger filigree cake plate to use as the base. This one is 16" diameter so it allows a little more room. I have one more wagon to complete and then I can start landscaping the scene
Barbara says 'Completed Gypsy Wagon No.4 today! This was built using another quarter scale caravan wagon kit from Seaside Miniatures. I chose a pink & rose color scheme for this one, so all the wagons are different. Again I embellished the kit with gold Dresden trim and fingernail decals. There were furniture kits that came with the wagon, but I opted to use a fancy little table and chair kit from Michelle's Miniatures instead. I really liked the wallpaper I found for this wagon and the other kits which included a hutch and stove surround were taller and thus, would have hid too much of the wallpaper. I can just use those kits in another project
This is the final wagon which will fit in my caravan camp scene. Next up I will work on landscaping the scene!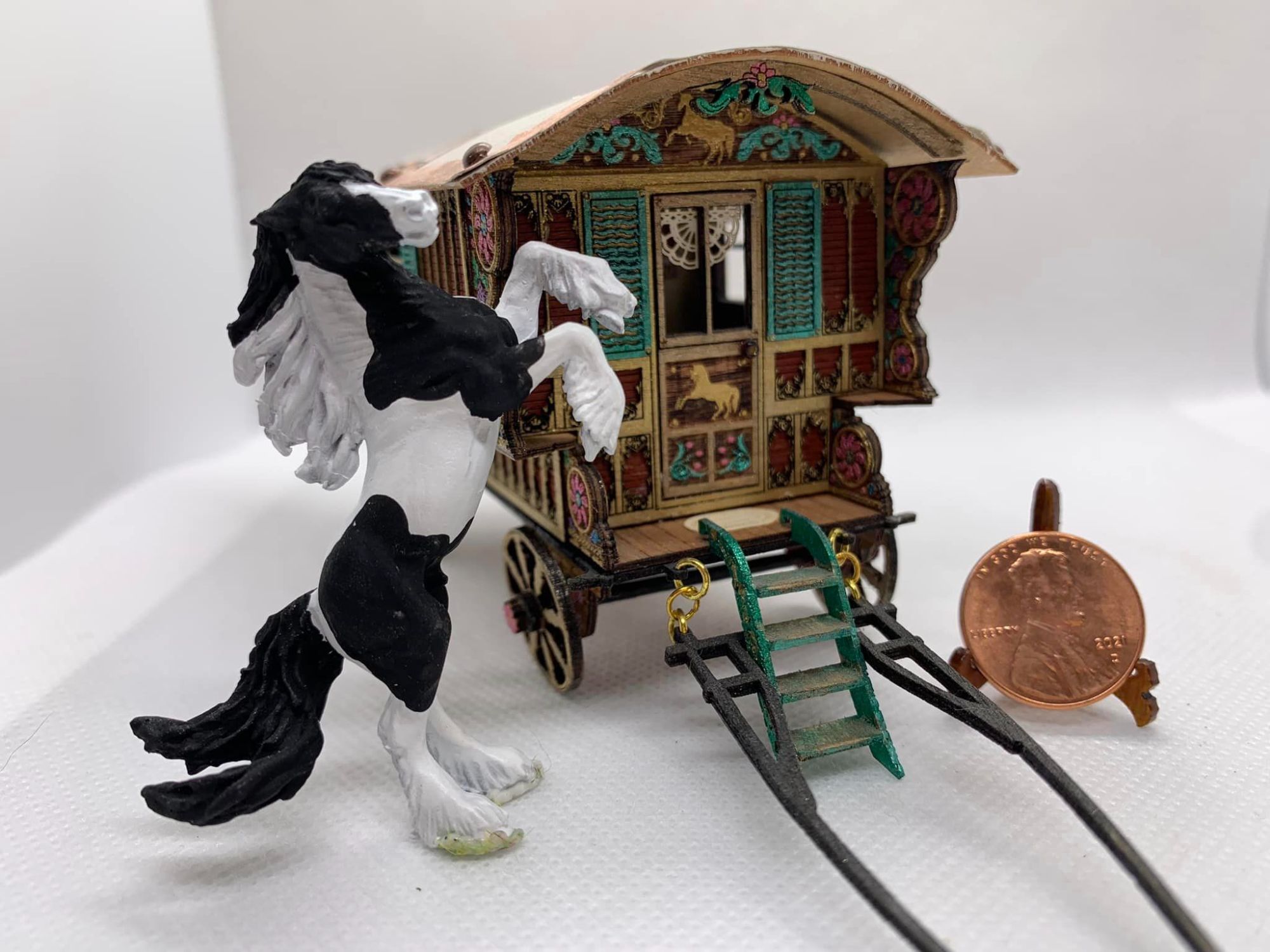 It occurred to me I never posted close-up photos of the first little Gypsy Wagon I built. I built this one back in 2015 using the wonderful little Kelayres wagon kit from Michelle's Miniatures. It was actually one of the first quarter scale kits I built. In 2010, I had built the 1:12 scale version of the same kit from Michelle Faleshock. I so loved building that one that I decided to try the 1:48 scale version. Since 2015, I had the two scale versions displayed together but when I started work on my 1:48 wagon camp scene, I decided this little wagon belonged in that scene.The coordinating Fortune Teller Booth and market cart were also built using kits from Michelle.