Karen Sneddon 1/12th Mother Goose
Mother Goose
by Karen Sneddon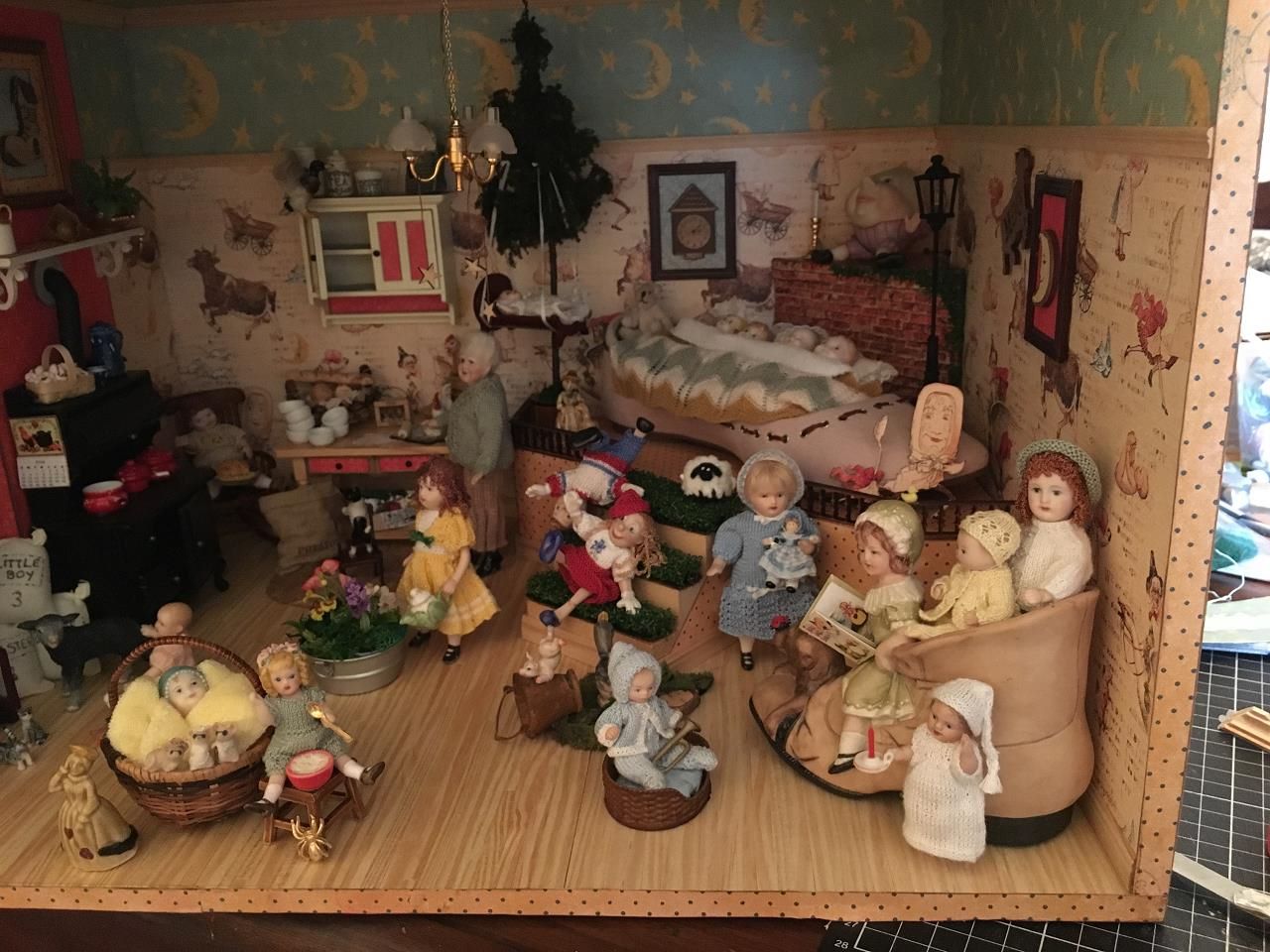 It is Charity Calendar time again in Australia for Karen and this year, 2017, the theme is Nursery Rhymes. Karen has created this roombox for one of the pages in the charity calendar promoted by Lorraine of Fairy Meadow Miniatures. The 2018 calendar will be on sale from1st August through the Fairy Meadows website.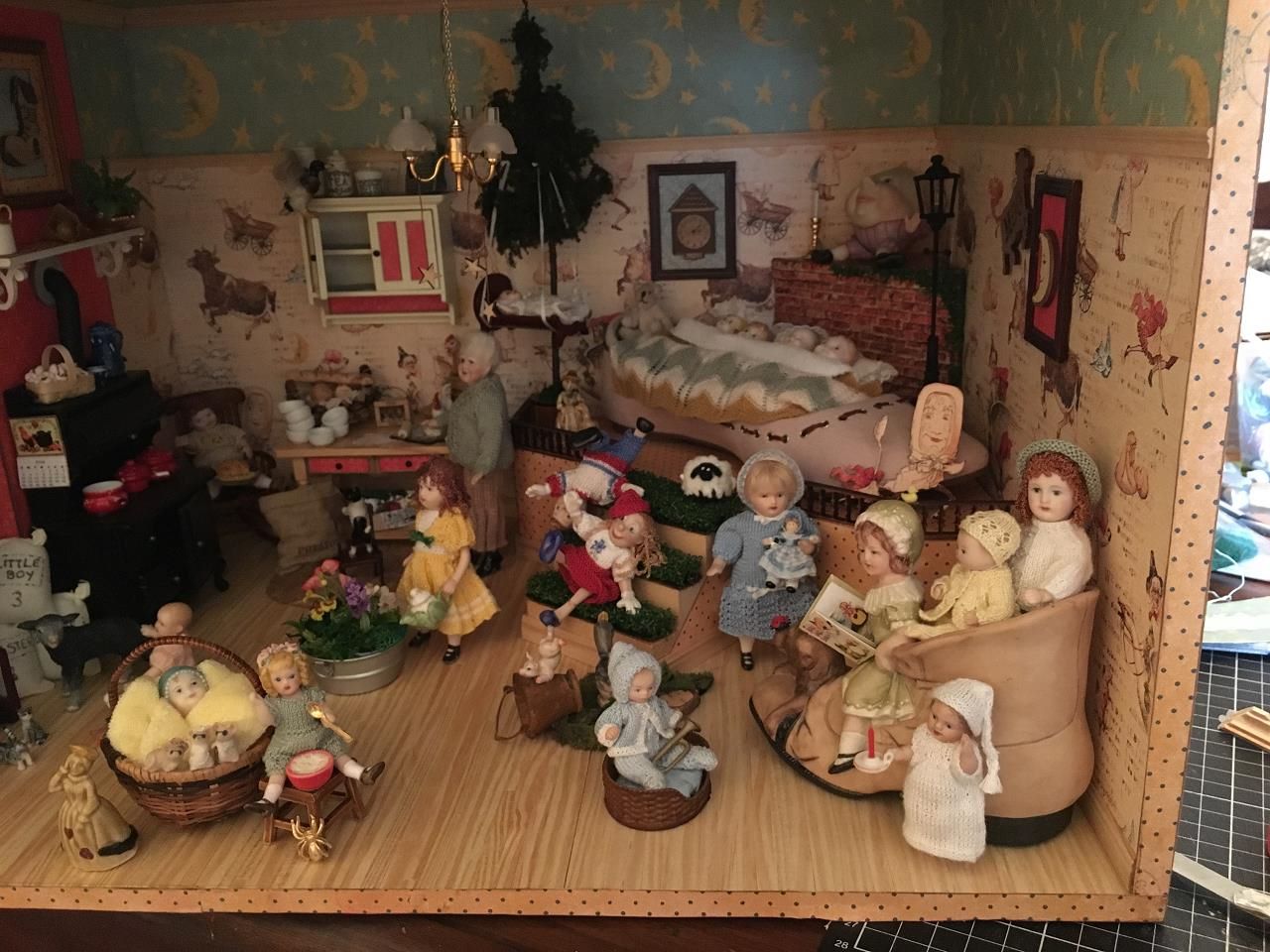 Karen says there are 21 Nursery Rhyme references in the room. Some are harder to spot than others but it is great fun looking. Hey Diddle Diddle - the Dish and the Spoon are at the end of the shoe bed and the Cow jumping over the Moon is on the wall. The ladybird who was told to fly away home is on the large dog's nose.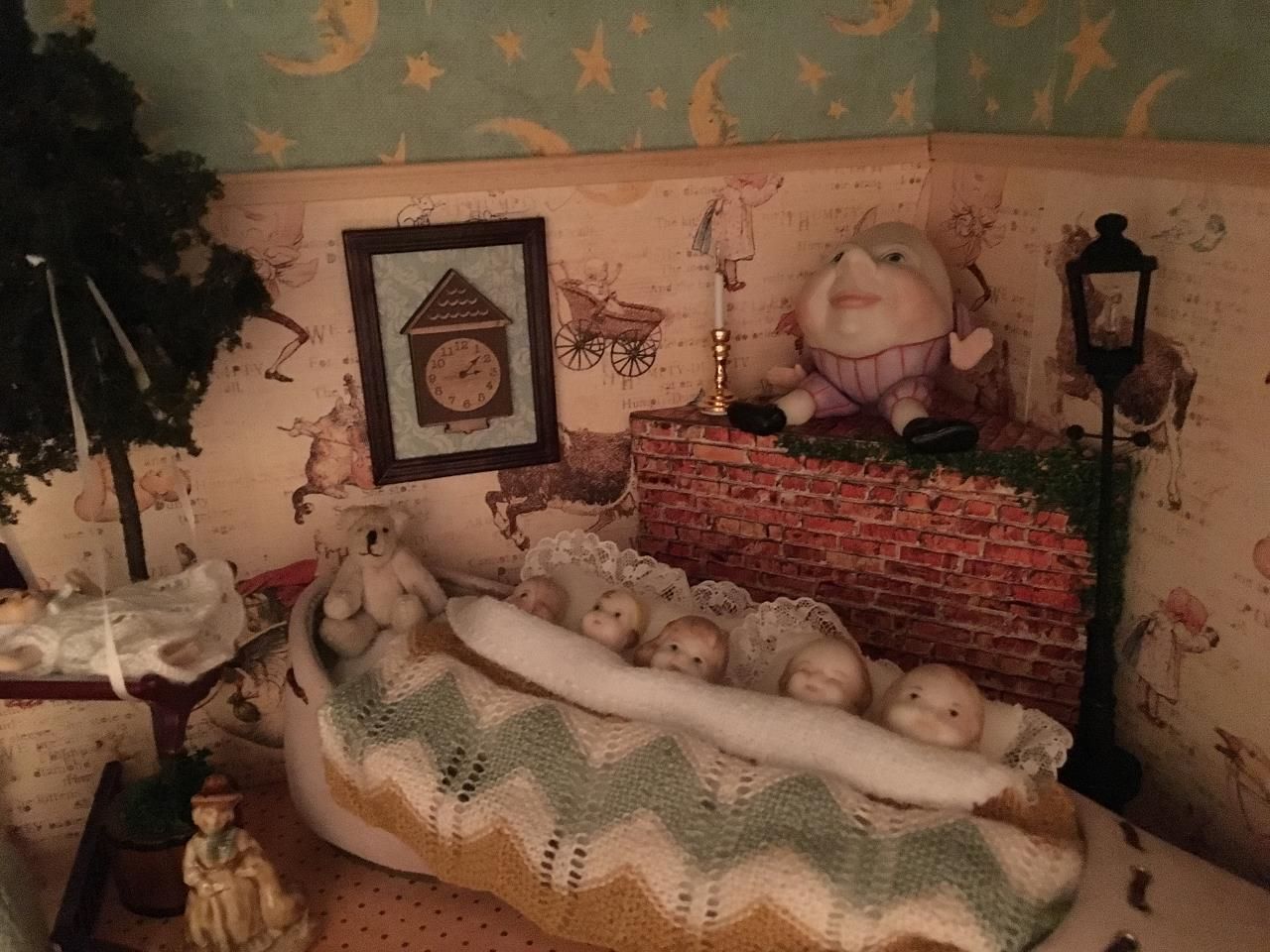 Humpty Dumpty is sitting on his wall in the corner.
I think that might be a house extension in front of him for the Old Woman who lived in a Shoe!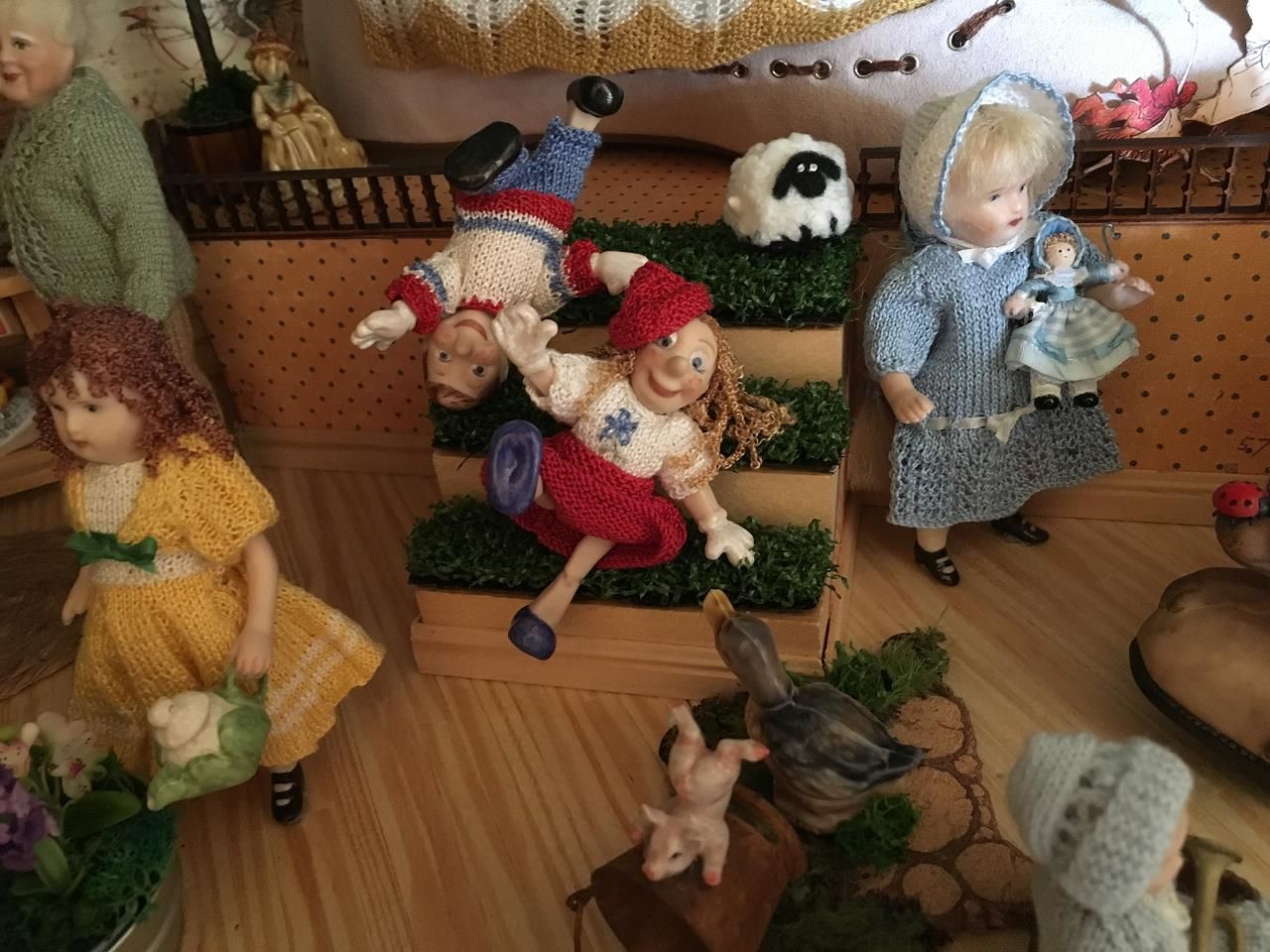 Karen purchased my Bo-Peep doll to be held by Little Bo-Peep in this part of the scene. There is Jack and Jill falling down the hill! The little girl with the teapot is Mary Mary Quite Contrary. To Market, to Market to Buy a Fat Pig is doing a handstand on the bucket next to Goosey Goosey Gander.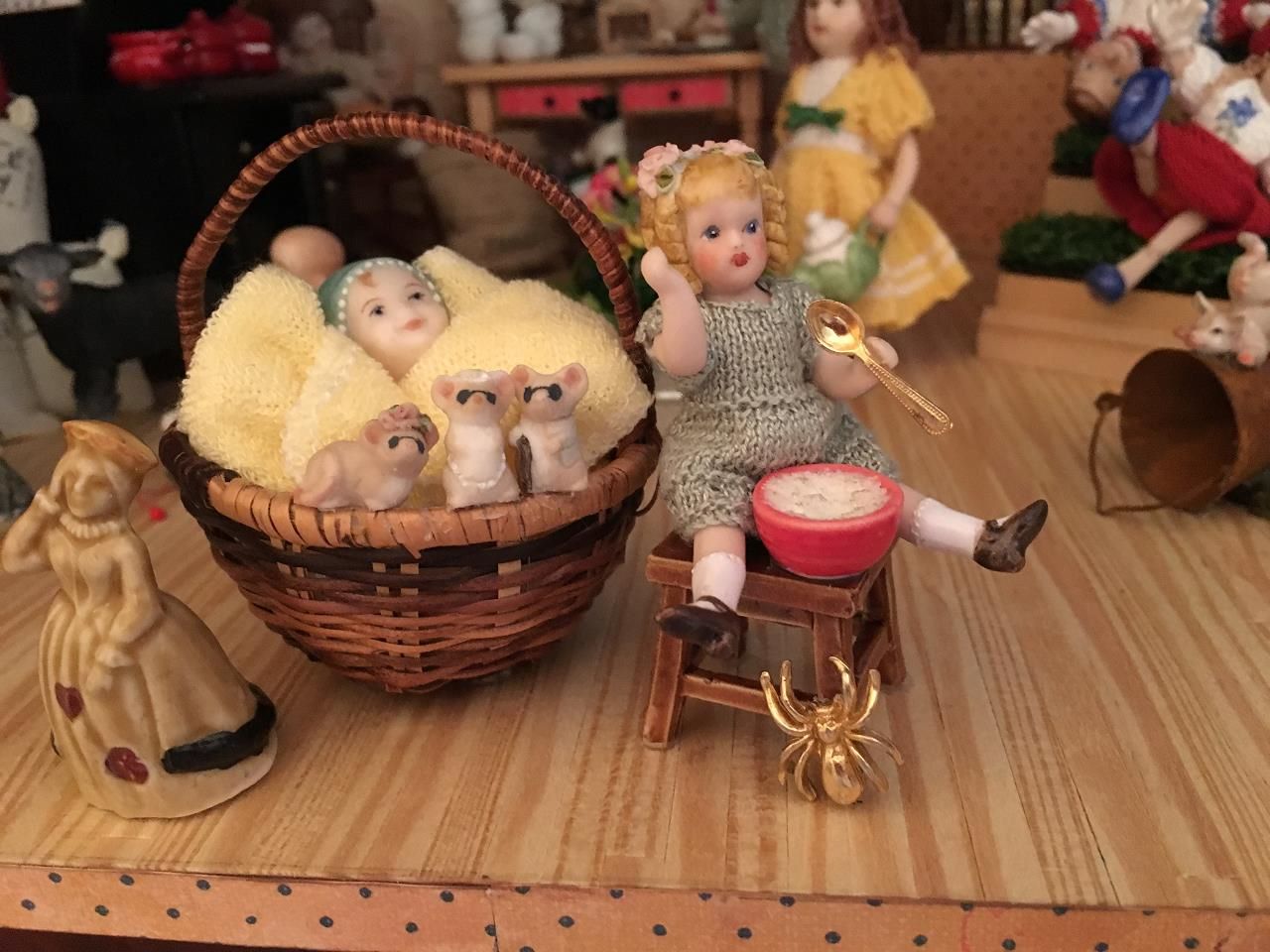 Here is Rock-a-Bye Baby with Three Blind Mice and Little Miss Muffet, who has not been frightened away by the gold spider! Behind the Queen of Hearts you can see Baa Baa Blacksheep with the three full bags of wool.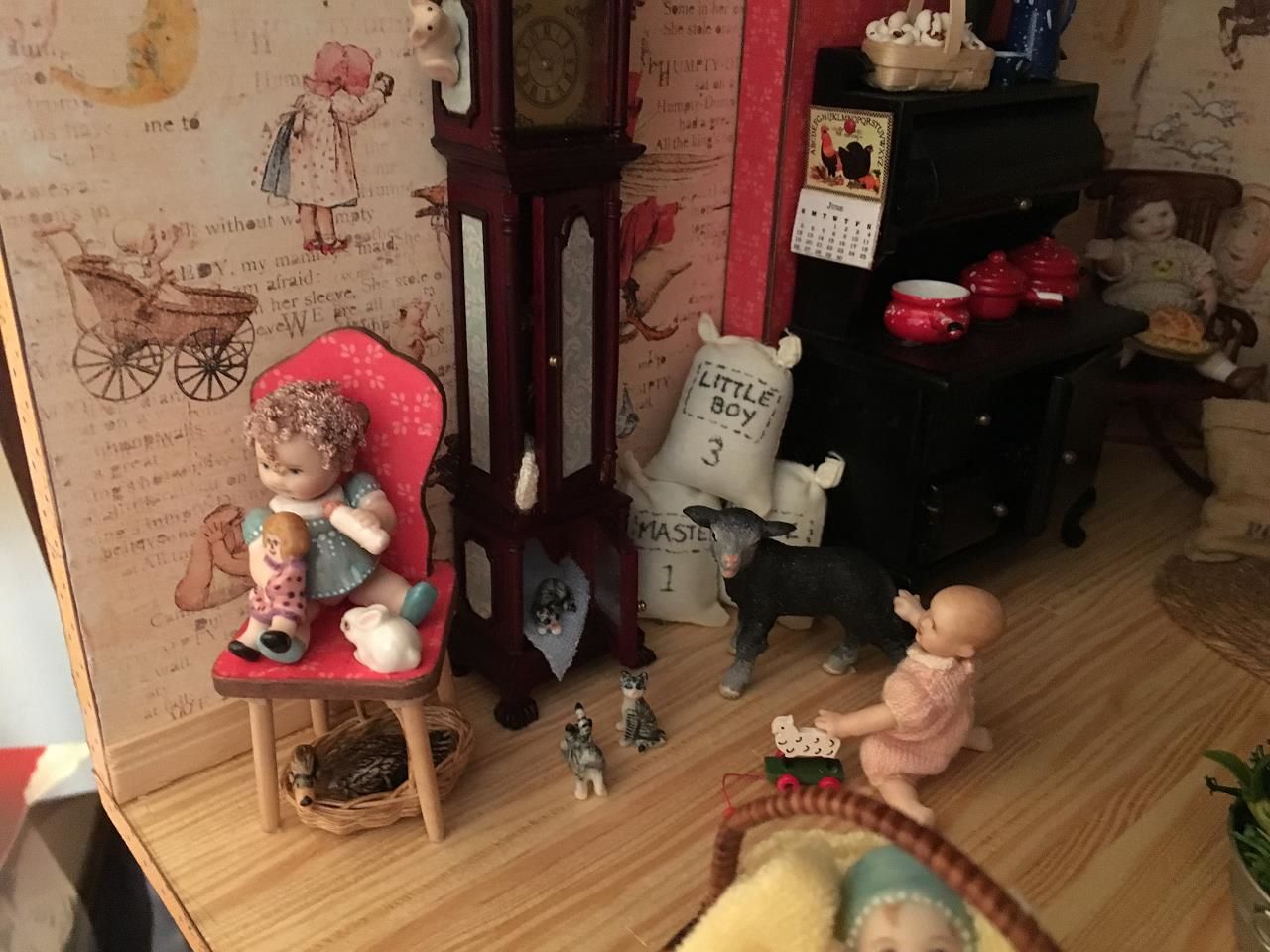 The mouse from Hickory Dickory Dock is running up the clock, Baa Black Sheep with the bags of wool and three little kittens are there looking for their mittens. The Little Girl with a Curl sits on the red chair.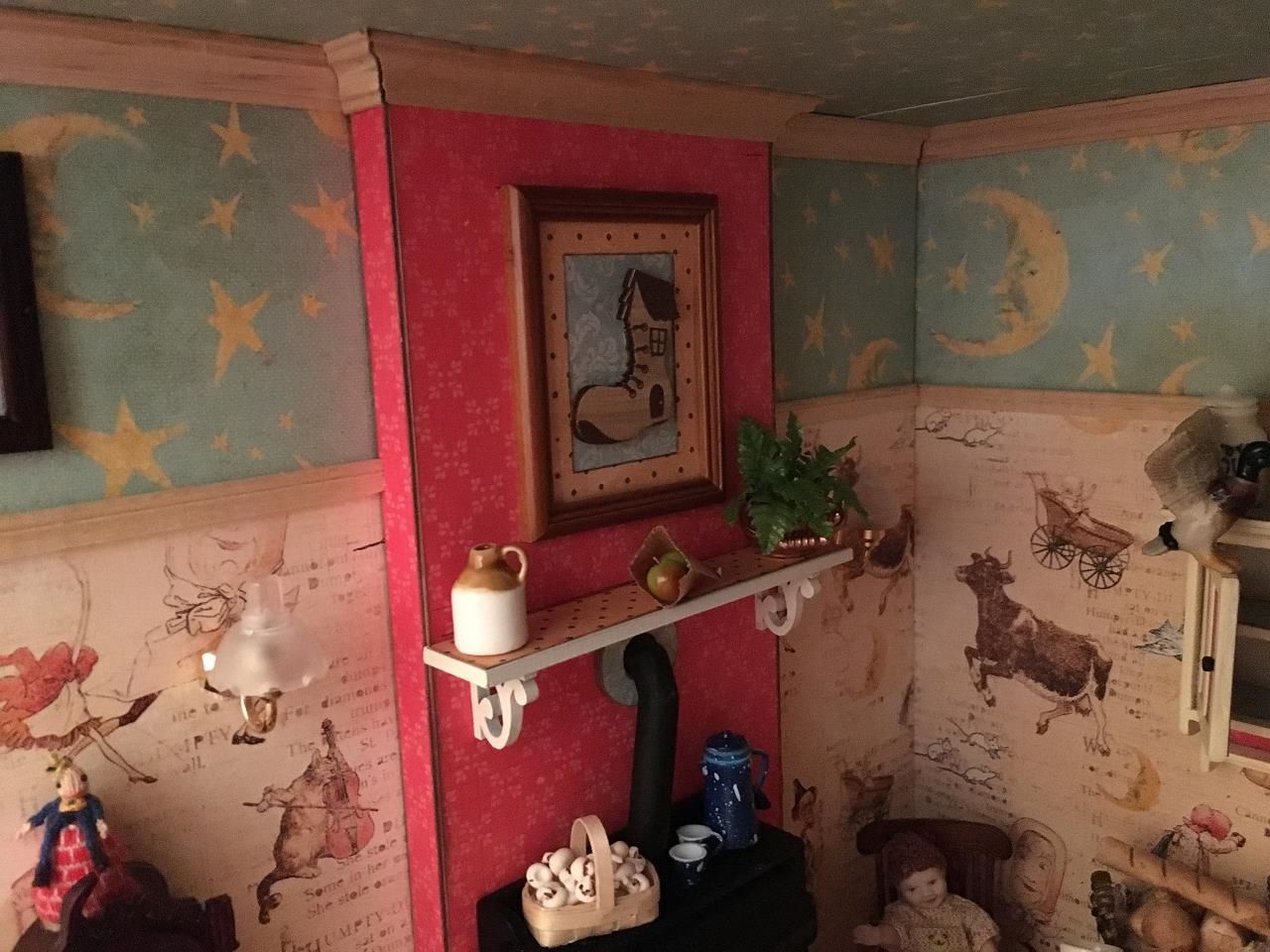 The décor and wallpaper are brilliant...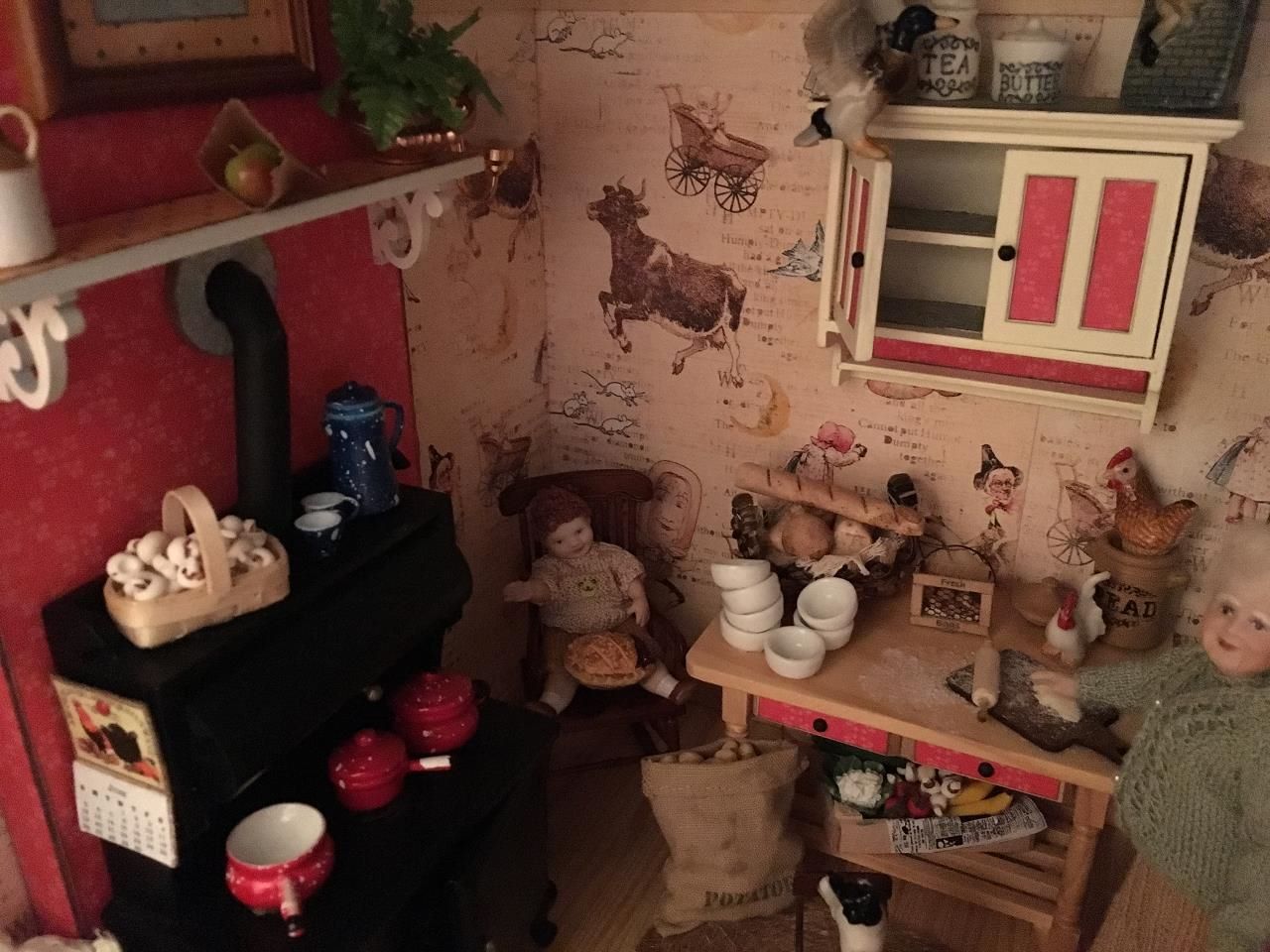 Old Mother Hubbard has already found the cupboard bare but Little Jack Horner is okay in the corner with his pie! Not sure who the basket of mushrooms belong to? An Apple a day Keeps the Doctor Away is on the shelf above the stove.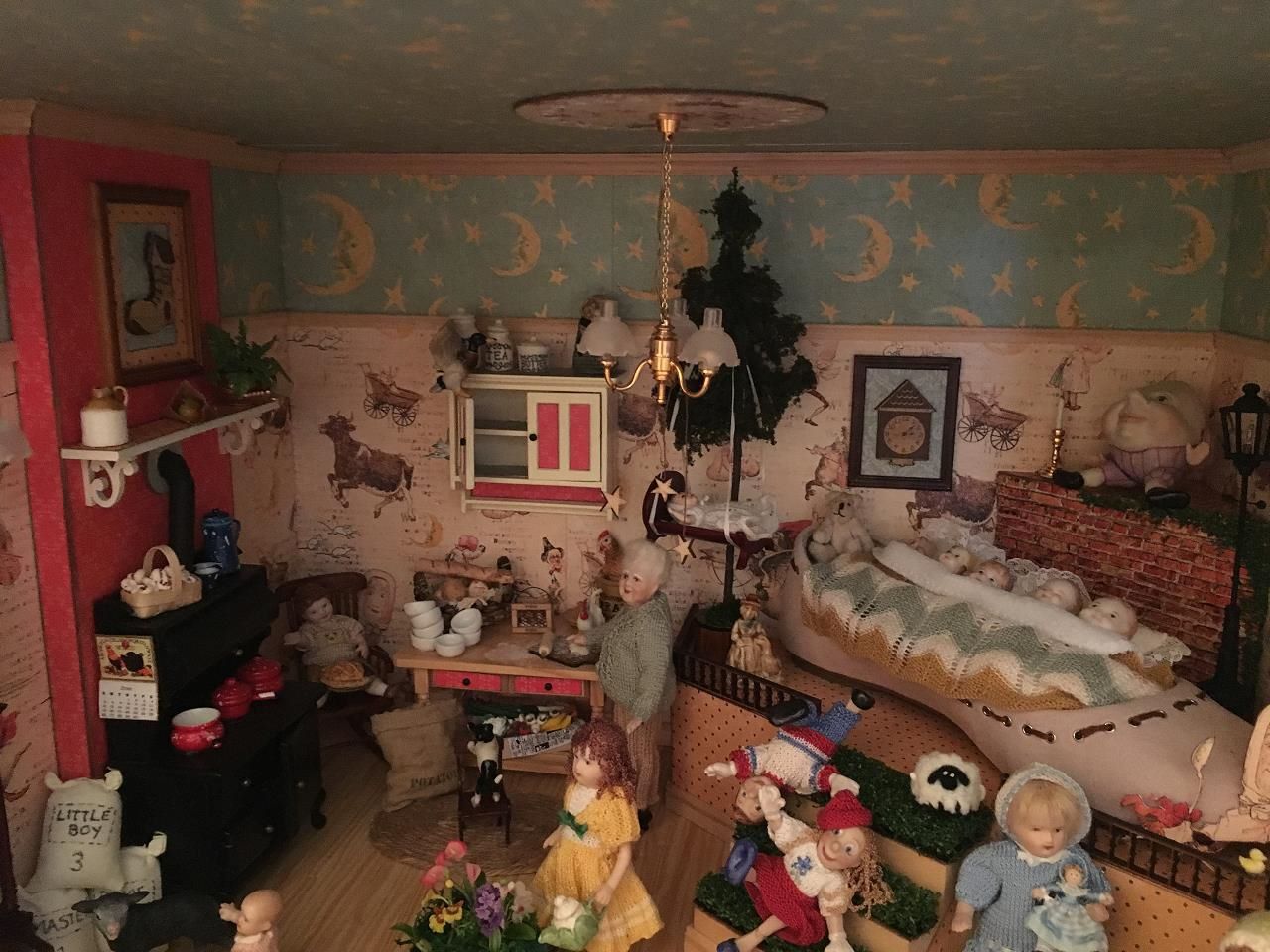 Karen has put lighting in the box but the photos come out better with it switched off. Twinkle Twinkle Little Star is on the ceiling and you can see the other stars are hanging from the ceiling light.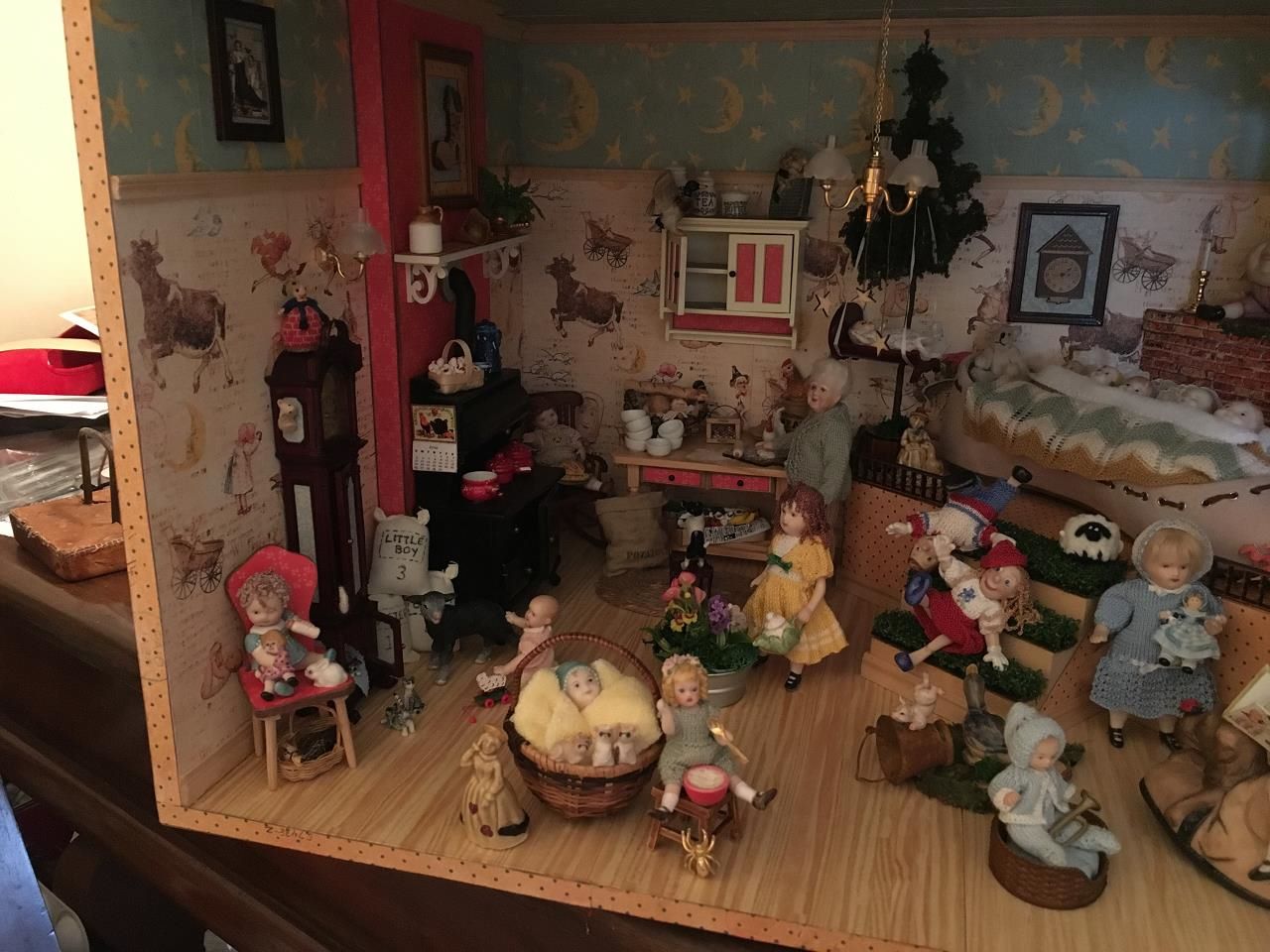 Karen says "I made all the dolls myself in my porcelain doll classes run by a lovely lady Helen Melodes, and all the beautiful clothes are made by my good friend Denise Davies, who has also made a lovely roombox for the calendar featuring Raggedy Ann and Andy."
Apparently 'Art Deco' is the theme next year. Can't wait to see what Karen comes up with...